Learn more about our events right here! We offer great discounts for members, so if you're interested in learning more about that,
we've got the scoop over here
. We look forward to seeing you at a future event!
She+ Geeks Out Virtual Panel – Emotional Intelligence: The Hidden Superpower sponsored by Yesware
May 4 @ 5:00 pm

-

7:30 pm

Free
Please join She+ Geeks Out and Yesware on the interwebs!
In this special May the 4th event, we help you discover your own secret lightsaber: emotional intelligence. Book smarts and IQ may get a lot of attention, but EQ, empathy, and "soft skills" are finally getting the recognition they deserve when it comes to finding success in the business world. In this panel discussion, we'll talk to experts about how you can leverage your emotional intelligence to GSD in the workplace.
MAY THE FOURTH BE WITH YOU!
This event is a woman-focused event that intends an inclusive definition of women. We are welcoming and respectful of women, including trans women and those who are nonbinary, gender non- conforming,and anyone who identifies as a woman in a way that is significant to them. We also welcome allies who are committed to creating environments that are supportive of people who are typically underrepresented in the workplace and beyond.
Please make sure to read our code of conduct before coming to our event!
Panelists
Moderator: Felicia Jadczak, Co-CEO at She+ Geeks Out
Panelist: Zoe Silverman, Director of Talent at Yesware
Panelist: Elaine Pappas, Recruiting Consultant at Yesware
Panelist: Jung Starrett, SIY Teacher & Principal/Co-Founder at SoulCo
Would you like to get full price off this event and other perks? Individual memberships available here!
How is this going to work?
We'll be sending out a calendar invite to all attendees one week prior to the event. In that invite, you'll get a bunch of details on how it works, as well as a fun list of topics we'll pre-set for you (don't worry we'll leave some room for random on the fly conversations too, you can just consider these icebreakers!). You won't need to download any software, but for the best experience, we recommend having a computer with camera and microphone ability.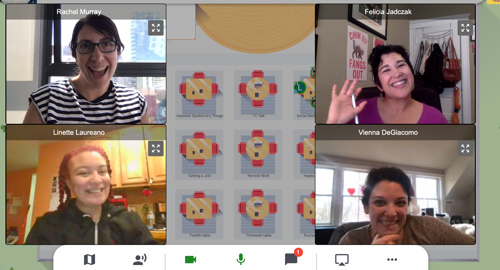 Thanks to Yesware for sponsoring!

Related Events