Learn more about our events right here! We offer great discounts for members, so if you're interested in learning more about that,
we've got the scoop over here
. We look forward to seeing you at a future event!
She+ Geeks Out March Virtual Geek Out sponsored by Facebook
March 31 @ 6:00 pm

-

8:30 pm
Please join She+ Geeks Out and Facebook on the interwebs for a fun night of learning, networking, and yes, still raffle prizes!
We'll be hosting our very first ever virtual event, but we promise to still bring the geeky fun, just this time with less germs. 😀 We've scoured the internet for the right tool that can foster community and allow for presentations. We believe we've found it! So join us for this special night. If it goes well, it's our hope that we will always be able to offer virtual ways to connect. We recognize the need to meet not only IRL but from an accessibility standpoint (whether you can't physically get to an event due to geography, home situation, or a disability that makes it impossible), to find ways to connect virtually as well. 
This event is a woman-focused event that intends an inclusive definition of women. We are welcoming and respectful of women, including trans women and those who are nonbinary, gender non-conforming, and anyone who identifies as a woman in a way that is significant to them. We also welcome allies who are committed to creating environments that are supportive of people who are typically underrepresented in the workplace and beyond.
Please read our Code of Conduct before attending this event!
Agenda
6pm-7pm: Registration, networking, eating, drinking
7pm-8pm: Speakers & raffle prizes (yes we offer geektastic raffle prizes!)
8pm-9pm: More networking!
Speakers
Gemma Espineira, VP Global Customer Success at Decibel
Becky Davis, Director of Analytics at DNL OminMedia, Inc
Victoria Lampton, Machine Learning/AI Recruiting at Facebook 
FAQs
How is this going to work?
We'll be sending out a calendar invite to all attendees one week prior to the event. In that invite, you'll get a bunch of details on how it works, as well as a fun list of topics we'll pre-set for you (don't worry we'll leave some room for random on the fly conversations too, you can just consider these icebreakers!). You won't need to download any software, but for the best experience, we recommend having a computer with camera and microphone ability.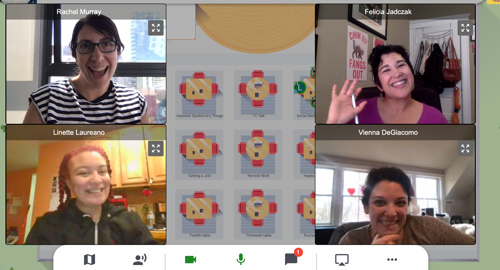 Why are you still charging for this event, aren't all virtual events free?
Solid q! Couple of reasons… First, we are still offering value in the form of content, networking, and raffle prizes! Also, not all virtual events are free. 😀 We plan to make our virtual happy hours free since they won't have content or raffle prizes, but we'll still create a space for you to connect with others on all sorts of geeky topics. 
Can I get a refund?
We completely understand if you're no longer interested in attending this event, since the nature of it has changed from IRL to virtual. We hope you'll have enough time to reflect as to whether you would like to still attend this event or not. Request a refund here up to one week prior to the event! If there are additional circumstances, we're happy to accommodate, please write to us at [email protected]
When should I sign in?
Our event starts at 6 PM, just like always, and content will start at 7pm. We'll see you there!
Thanks to Facebook for sponsoring!

Related Events